This page is called the box room for two reasons. Firstly, half of my stuff looks like spoils from a box room, and secondly, half of my stuff is black or silver metal boxes.

I have separates, old PCs, AV equipment and other strange electronic junk coming out of my ears, almost literally...

Oh yeah, I 'doctored' this lightbulb image 'cos it looked cool....
A general rule is, if it makes noise, does something cool, or is old and 'a bargain' I'm into it. I'm still searching for a reel-reel stereo tape deck, but I have everything else I'd want, except for a Philips CD100/Sony CDP101 that is...


(above) The listening room
(left) Some of the AV stuff such as it is :)
The lounge in the flat has been overrun by my kit, as my housemate's midi system just won't do! There's overspill elsewhere, notably in Reading mates' systems... Oh, and the garage is filled with junk as well... It WILL come in handy one day! The only problem with this setup is that the lounge is a tad bit cluttered as there's two settees and (soon to be a )dining room table in there too, but that's life.
| | |
| --- | --- |
| | One 1972 Akai CR81d - a serious lump of obsolete hardware! |


Tubular Bells and Hendrix at the Isle of White - one awesome cart

Hendrix rocks out!


My 8 Track recorder - quality cheese from the 70's, but built to last! And of course, the Kerchunk! noise it emits at the end of each track is positively industrial sounding. I put the artist's impression on as the thing is a nightmare to get a good photo of. A great site for 8 tracks is, of course, 8 Track Heaven.

My 80s fetish takes a bow - Human League's Hysteria (1984) and a 1985 Technics SL P2

And there it is - the first CD single....
Kenny scored me this 1985 Technics SL P2 CD player - and it still works (take note of what I said about things not being built as well as they used to be!). I decided to give these images a more period look with some early CD releases - including the first ever CD single - dIRE sTRAITS' Brothers In Arms Special Edition!
The rest of the hi-fi can be seen on the Music page...
A/V bits
As you will see on my movies page, I like movies a heck of a lot, and have invested in a huge collection of VHS (Crap-O-Vision) and DVD films. I play the DVDs on:
I have a Pioneer 656A DVD (which also does SACD/DVD-A music discs) as my old Samsung DVD-S224, and the older Sony 525 have been a little temperamental, a bit like it's owner, the lipsync bug drove me to destraction! The output from the DVD goes into my Yamaha E800 Dolby Digital processor via the coax digital output AND 6ch outs, and although the Yammie doesn't do ProLogic II or anything fancy like that I'm not too bothered since I'm primarily a music man at heart.
I use a Philips 805 Matchline to attempt to watch VHS on, but the format itself is so p-ss poor, I hardly bother these days. It's used for recording the Royle Family and that's about it! I also forked out for a cheap Goodmans for use in Reading, and it's not bad at all - does NICAM and all mod cons for 120 quid - bonus.
I also have a Pioneer CLD-S310 Laserdisc player. Urm, why? You might ask... Well, George Lucas is sitting on the Star Wars DVD releases of Episodes IV-VI for ever it would seem, so £40 for the special edition trilogy and practically nothing for the Laserdisc seemed a fair deal...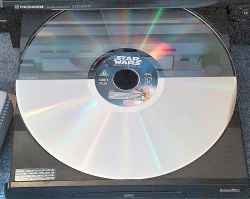 I was on the lookout for a cheap and decent widescreen telly, and the nearest I've got so far is a 400 quid Toshiba, although I saw a Thomson recently for peanuts - AND with 100Hz scanning - maybe when I move to Exeter... As it stands this idea is on hold as my housemate has brought a fekking huge widescreen down - sweet!
I love computer games, and use my HP PC for these, together with my original PlayStation.

I also used an old Sega Megadrive, but this is mothballed for the mo... I got it for free in 1997, boxed and with 6 games. Good one!

My housemate now owns a PS2 so that means I can at least save SOME money for a change.... I might get round to buying one when they cost 130 quid - not in any hurry ;)