This page is dedicated to weird and amusing images cobbled together from received emails and pictures I have taken (well, one, anyway!). I suspect these are copyright, but none barring Darth G have notification; if you want credit for an image, contact me and you'll get it.
Obviously, some of these will be fakes, but I'd be curious to know if any of the more bizarre ones are real - there's more on the links on the left...
Amusing imagery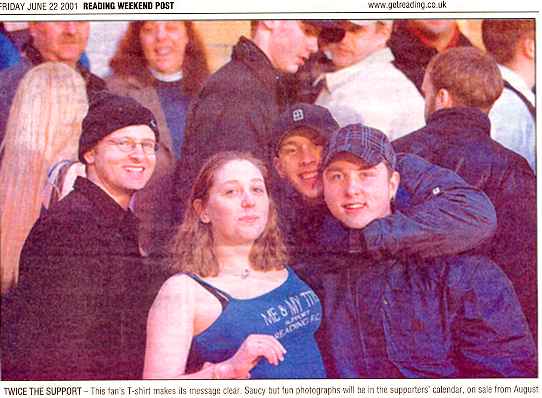 This was spotted in the Reading Post - nice T-shirt - dunno about my supposed Home Team though - not being a footie fan I'm not too sure how they're doing at the moment! However, with support like this, I'm sure they'll do ok....
What most of us feel like when we get into work....

Don't try this if you're on the 7th floor though - it'd take an awful long time to tunnel through all that concrete....



I know cats are generally considered to be lazy, but check this one out; he's seriously knackered! One too many on the tiles I think...


Here's a turn up - a fish that likes cats as much as a cat that likes fish!!!
This is an advert for a 'research project' into whether blowjobs give women problems with their larynx; apparently, this is being conducted at Toronto University - and the guys actually get paid. Love to know if this is true!

Click on the image for a view that's readable - this will appear in a new window.

| | | |
| --- | --- | --- |
| | | I'm not quite sure who's idea it was to paint this plane in such an amusing way, but it certainly made me laugh! I bet Santa gets this all the time (when he's not stuck down the chimney that is!). |
This advert caught my eye when I was in the band. There was a noticeboard in the Cell Studios in Reading which had all kinds of music-related stuff...

This was the best though....

Supposedly real...
These images are self explanatory, but I'll add my comments anyway! These are of the 'That's Life!'-type vein. That was the best thing about that program - someone would always crack me up by sending in something with an amusing word or phrase contained, innocently, within the image. It's like that Men Behaving Badly episode with the 'Sod', 'Plop' and 'Binky' imported beers...

| | | |
| --- | --- | --- |
| | | Beavis and Butthead would have a field day about this one - db (dry beer) for me bunghole.... |
| | | |
| | | Dread to think where this butcher gets HIS meat from.... |
| | | |
| --- | --- | --- |
| Well, Sweeney Todd's was one thing, but I hope for the sake of others that Lorena Bobbit isn't the chopper in THIS barber's shop... I bet the kebab shop down the road has a good trade in sausage meat though. | | |
| | | |
| --- | --- | --- |
| | | Certainly more interesting then Royal Mail... |
Conjunctivitis sucks big time, but my mates let me scan their eyedrop packets...

Hmm - Fucithalmic speaks for itself, and, well, the other ones must be manufactured b a serious James Bond fanatic...
No explanation required!

They taste nicer than Chef's chocolate salted balls though.

At last! Homeless people who are honest about what they needs that spare change for...

That aside, whilst these images are amusing, it should be noted that at least some of the homeless people out there are genuine and not complete druggies or alchies. Most of them could just use a break which Britain, at least, doesn't seem to want to give them.

Allegedly Actual Advertisements!
| | | |
| --- | --- | --- |
| That homeless dude above obviously doesn't worry about the supposed downsides to 'Mary Jane' - although I would assume that the writer of this article is also a pretty regular user... | | |
| | | | | |
| --- | --- | --- | --- | --- |
| | | These are the kind of ads that always seem to appear in the back of those dodgy free papers... | | |
Well, I knew Burger King claim to use 100% beef, but if this is a real advert, it probably explains why the burgers are sometimes tough and stringy - no wander they seem to have such high staff turnover....
This one has GOT to be a fake! Either that, or Beavis and Butthead have started up a slightly more lucrative business than their 0900 number,
This advert would flout pretty much every rule in the Advertising Agency's standards handbook, but if it's real, it's blooming classic!
If Dennet's Wharf can't please your 'mom' though, then maybe this person can ;)

I wander what 'dick' was a typo for though?

His Master's Voice? No way! This HAS to be a fake surely - mind you, only in America, as they (not us Brits, I hasten to add!) say...

Loo-hoo-hoooo-se-heeurrrr!!!

| | | |
| --- | --- | --- |
| | | This is a harsh advert if it's true; I know someone who had a cat disappear on them, only to find out 6 years or so later that the a-hole of a nextdoor neighbour had shot it. I still don't know why they did this, but I guess some people are just cruel like that... |
If you ever needed proof that Bill Clinton 'wasn't a very good President (...as he himself said in The Simpsons), here it is:

That said, I'd have 10 Bill C's over that Muppet George W Bush. Us Brits all know what the W stands for - sign the Kyoto Protocol you d*ckhead!

More bizarre, non-themed images
A Taco Bell where the signwriter can't read....


And a roadpainter who can't see roadkill:

| | | |
| --- | --- | --- |
| | | Not quite sure how old this kid is, but he obviously doesn't know when to hang back and give his fellow creatures a tad bit of quiet time.... |
| | | |
| --- | --- | --- |
| These signs use varying strengths of scare tactics - I wander if they actually work?? | | |
Now visit the other imagery pages ;)