Random imagery
This is where all the stuff that didn't really fit anywhere ended up...
Whilst this isn't technically weird or amusing in the original sense of the word, I find it amazing that IBM can make a hard drive that's THIS tiny! Maximum respect!

This image is © IBM

| | | |
| --- | --- | --- |
| Does this remind you of anyone you know (please don't say me - I'm not THAT bad (although it might explain why I can't see very well....) | | |
Here's a steamy orgie involving mixed race, one-on-one hardcore XXX action and group hugs...

Jelly, baby!

This was our bathroom in StudentVille; we'd repeatedly told the landlord about the problem with the leaking roof, but he obviously didn't give a damn.

Just goes to show that if you put off repairing something - it comes back to bite you in the butt; the landlord had to fork out four times what it would have originally cost to repair when the roof finally went! HAH!

Ali G is goin' space cadet stylee innit? 'Cos he is global, innit?

© Christian Russell 2000

Transport crisis



A kind message from BP, seen during the fuel strike...

Incidentally, Nathan at work actually saw one of these recently, and turned his car round and went back, just to ensure he wasn't dreaming!



...and if you thought the trains and roads in Britain were overcrowded, then check this out!
Now this one was cool...

Think this is a new car?

It is - NOT!

This was Dad's Astra Belmont; we noticed that the event was getting close, we stopped and I took this. Yeah, alright, it's probably sad. But I liked it ;)

The best place for the car is right here; intricate rusting sculptures piled precariously, waiting to become a scene in Scooby Doo or something.

Let's face it - you wouldn't be able to get a spare gearbox from that silver Volvo near the bottom....

| | | |
| --- | --- | --- |
| | | Saturday afternoon; a woman wanted to go shopping at Galeries Lafayette in Paris. Finding it difficult to park in the busy streets adjacent to the shop, she decided to make for the underground car-park. Unfortunately, the 'car-park' was mistaken for the entrance to the metro. Unbelievably, she wasn't even fined, but at least no-one was injured. |
Who gave this donut their licence? I can't believe some people. ;)

Perhaps they were trying to beat the fuel crisis or something...

| | | |
| --- | --- | --- |
| | | This image tickled my fancy; it's pretty accurate too. In the early days of micro computers, people had to code in binary, using switches, just to get the darned things to read off of tape! |
| | | |
| --- | --- | --- |
| Whilst elsewhere, on the subject of pot... | | |
And here's some very naughty Technic (or should that be technique?) Lego men...
OK, so this isn't bizarre or strange, but I wanted to put this on to prove that even partially sighted people can do art.

I know one of the hands is a bit ropey and the perspective could be improved, but this is pretty much the only bit of art I've ever done that I'm proud of, barring a clay duck that my art teacher broke!
| | | |
| --- | --- | --- |
| | | ... and here's that picture again - but a limited edition print! Well, OK, a lasercopy for my mate Elaine. One day... |
This is Paul - you'll have seen him on the Mates page - sitting on an unfeasibly big speaker.

We had to do a Final Year project for Uni, and most of these involved too much math. We weren't the best at math, so when we saw 'Speaker Cabinet Modeling and Design' we couldn't resist.

This speaker was AWESOME - 100 litre cabinet, a piffling little 7 inch drive unit, but bass down to 10Hz and lower!!!! YEAH!!!

My Sony speaker behind wasn't exactly the smallest one on earth either...

Boys come out to play
on the busy motorway...

Leon and I decided to put on our best 'we hard' pose, and failed miserably! Note the lovely shell suit (it was 1992!) and the grins on our faces - like real hard men would be smirking! Oh well...
If you thought the British railway network was in need of maintenance....
In the aftermath of the Kings Cross Underground fire of 1987, it was deemed that all combustible materials should be removed from Underground stations - including the infamous wooden escalators, one of which contributed largely to that fire.
Well, all Brits know the Underground is strapped for cash, and proof of this is this pair of 1939 standard issue wooden escalators on the Central Line lower platforms at Notting Hill Gate!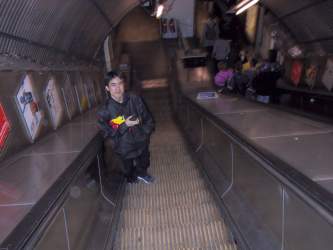 Cheers Harry for the loan of your digicam - apologies to everyone else for being an escalator spotter.....
Here are some non-modernised ones seen at Earls Court in 1994 - at the Live '94 Exhibition. I expect these have been ripped out by now though - note the wooden risers and side panels. These are apparently identical to the ones pre-fire at Kings Cross...
Personally, I like wooden escalators as they are more 'comfortable' under the feet, and they are also allegedly more reliable than the modern ones elsewhere on the network. I guess it's nostalgia or something. However, their days are numbered.....

What a photo opportunity - loads of gutted heavy machinery - just the way I like it! These escalators are in Bracknell's main 'Princess Square' shopping centre and always seem to be breaking down... What the hell does an escalator need all those breakers for by the way?
| | | |
| --- | --- | --- |
| | | To keep the theme going, I snapped this at Reading Station; the up escalator had been bust for about 6 months, so I nearly fainted when I saw they were finally doing something about it... It's kind of cool (in a sad trainspotterish way) being able to see the workings of one of these things... |