Work mates (not the Black and Decker type)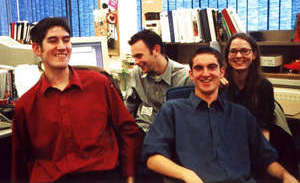 Me, Jim, Nathan and Suzy at work. Nathan and I work in a Design Studio, Suzy works on our Internet website, and Jim now works for londontown.com; no, I'm not one of the Met's designers! I just build intranet sites to other peoples' designs ...
Jim was the Trekkie of the group - oh dear! At least he's into kick-butt computer games, so that makes up for it I guess. Nathan is always clubbing or in a boozer (as far as I can tell), and Suzy is either in the pub or chillin' and shoppin'. Typical woman... ;) They're a good laugh to hang with at work, and yes, we do get some work done!
If any of us end up going out in Reading, it's a right nightmare, 'cos we end up completely blitzed! As I write this, I'm just recovered from a wild Friday night in the Fez Club (urm, least said about that the better - I missed most of it by falling asleep...).
Here is some evidence from Suzy's birthday party:

| | | |
| --- | --- | --- |
| | | |
| Me, cousin Rob and Esther | | Mark, Jim, Nathan, me |
| | | |
| --- | --- | --- |
| | | Aprés party, at my house; from left to right we have my cousins Rob, Esther and Judith, me, Nathan and Jim. Not sure what Jim thinks he is gonna do with the iron though... |
Just thought I'd bung this one in - whilst it doesn't have a date or time on it, it was taken on a Sunday before noon when we had to do overtime.

I actually look almost as awake as Suzy....

So Mum, I can get up before noon on a Sunday sometimes!!!
One more thing - the Office made me very happy when they decided to relocate to Exeter...